Michigan State University (MSU) recognized the bicentennial of the 1819 Treaty of Saginaw on campus in September 2019. Events and programming were held to help raise awareness about the history of the land on which MSU resides and how the past shapes the present and the future.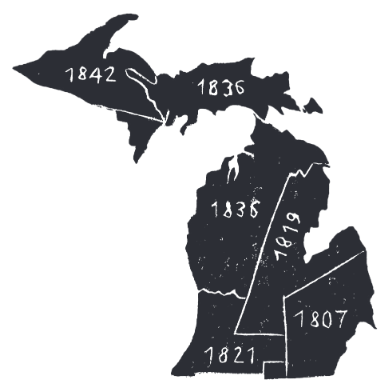 The 1819 Treaty of Saginaw commemorative events were a way for MSU and local communities to learn about.
The boundaries of the state of Michigan resulted from several land cessions from 1807 through 1842, and at that time Native people were forcibly removed from their land.
Michigan State University & Campus
The land that MSU occupies is the ancestral, traditional and contemporary lands of the Anishinaabeg – the Three Fires Confederacy of Ojibwe, Odawa and Potawatomi peoples – that was ceded in the 1819 Treaty of Saginaw. The federal government often negotiated treaties with tribes under duress or in ways that legalized violent land seizures from Native people.
The Indian encampment site on MSU's campus is in the People's Park courtyard between Wells Hall, Erickson Hall and the International Center.
Land-Grant History
MSU is a beneficiary of land allotted through the passing of the Morrill Act in 1862, which enabled the creation of land-grant colleges across the United States. The Morrill Act allotted land, ceded from Native people, to states and territories to form colleges connected with agricultural and mechanical arts education.
Historic land cessation has ongoing impacts on wealth distribution, resources, access and education for Indigenous people and tribal communities still today.
It is important for MSU and local communities to learn about Anishinaabeg people today while also sharing a deeper understanding of the history. The use of land acknowledgements is a first step in this process.